Underfloor heating has become increasingly popular in recent years, providing a comfortable and energy-efficient heating solution for homes across the UK. But is it the right choice for your Bromley home? At Cosy Cat Plumbing & Heating Ltd, we offer a range of professional services, including underfloor heating installations, throughout Bromley, Kent, and the surrounding areas. In this blog post, we will discuss the benefits of underfloor heating and help you decide whether it's the right choice for your home.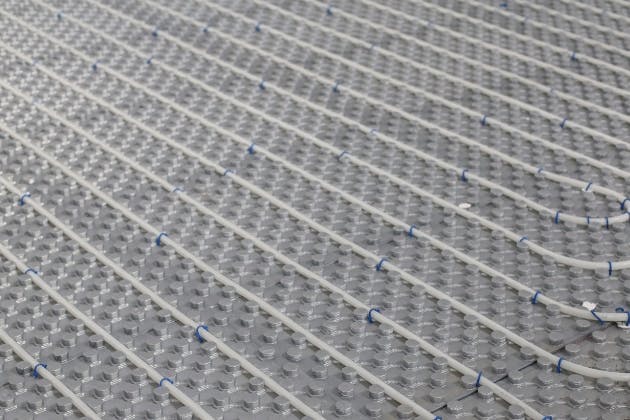 What is Underfloor Heating?
A Modern Heating Solution
Underfloor heating is a modern heating system that involves installing a network of pipes or electric cables beneath the floor surface to distribute heat evenly throughout the room. It is an energy-efficient alternative to traditional radiators, and it is becoming increasingly popular in both new-build homes and renovations.
The Benefits of Underfloor Heating
Comfort and Warmth
One of the main benefits of underfloor heating is the increased comfort it provides. The system evenly distributes heat across the floor, ensuring a consistent and comfortable temperature throughout the room. This means no more cold spots or chilly feet when stepping onto a cold floor first thing in the morning.
Energy Efficiency
Underfloor heating systems are typically more energy-efficient than traditional radiators, which means lower energy bills for you. The heat is distributed evenly across the floor, reducing the need for high-temperature water, leading to a more efficient system overall.
Space Saving
With underfloor heating, there is no need for bulky radiators, freeing up valuable wall space and allowing for more flexible interior design options. Plus, the lack of radiators means fewer dust-collecting surfaces, leading to a cleaner and healthier home environment.
Increased Home Value
Adding underfloor heating to your Bromley home can potentially increase its value. Many potential buyers view underfloor heating as a desirable feature, and having it already installed in your home could make it more attractive to potential buyers.
Is Underfloor Heating Right for Your Bromley Home?
Underfloor heating is an excellent option for many homes in Bromley and the surrounding areas, but it's essential to consider factors such as the type of flooring in your home and the overall cost of installation. At Cosy Cat Plumbing & Heating Ltd, we are fully qualified and Bromley Trading Standards Approved, ensuring we can provide expert advice and high-quality installation services.
Call Us for a Free Quote
If you're considering underfloor heating for your Bromley home, don't hesitate to contact us at Cosy Cat Plumbing & Heating Ltd. We offer professional and reliable services, and we're happy to provide a free, no-obligation quote for your underfloor heating installation. Give us a call on 07472 255592, and let our team help you create a warm, cosy, and energy-efficient home.